Paris is beautiful, but it's big. Luckily, getting around is pretty easy. So here's some tips on how to make your way around the capital.
THE UNDERGROUND METRO SYSTEM
The quickest and easiest way to get around Paris is by using the underground. But as a non-French speaker, learning how to use it was tricky at first – but don't let this put you off. As soon as you learn about the zone systems, you've pretty much got it in the bag. And if you've ever been to London and used the underground there, it's pretty much exactly the same. It's just the place names are a lot harder to pronounce and remember.
GETTING A TICKET
The key is to know that the Paris underground is divided into five zones and the city itself is split into 20 arrondissements. But the most important thing to remember is that buying your ticket is a little bit different than you might be used to. Instead of buying your ticket from the station you're at, to the stop you want to go, you buy it to the lines final destination. So if you were going into the middle of Paris, but a couple of stops before, you'd still have to buy a ticket to Paris. This was the biggest thing that confused me when I went, as we couldn't find the stop we wanted on the machines.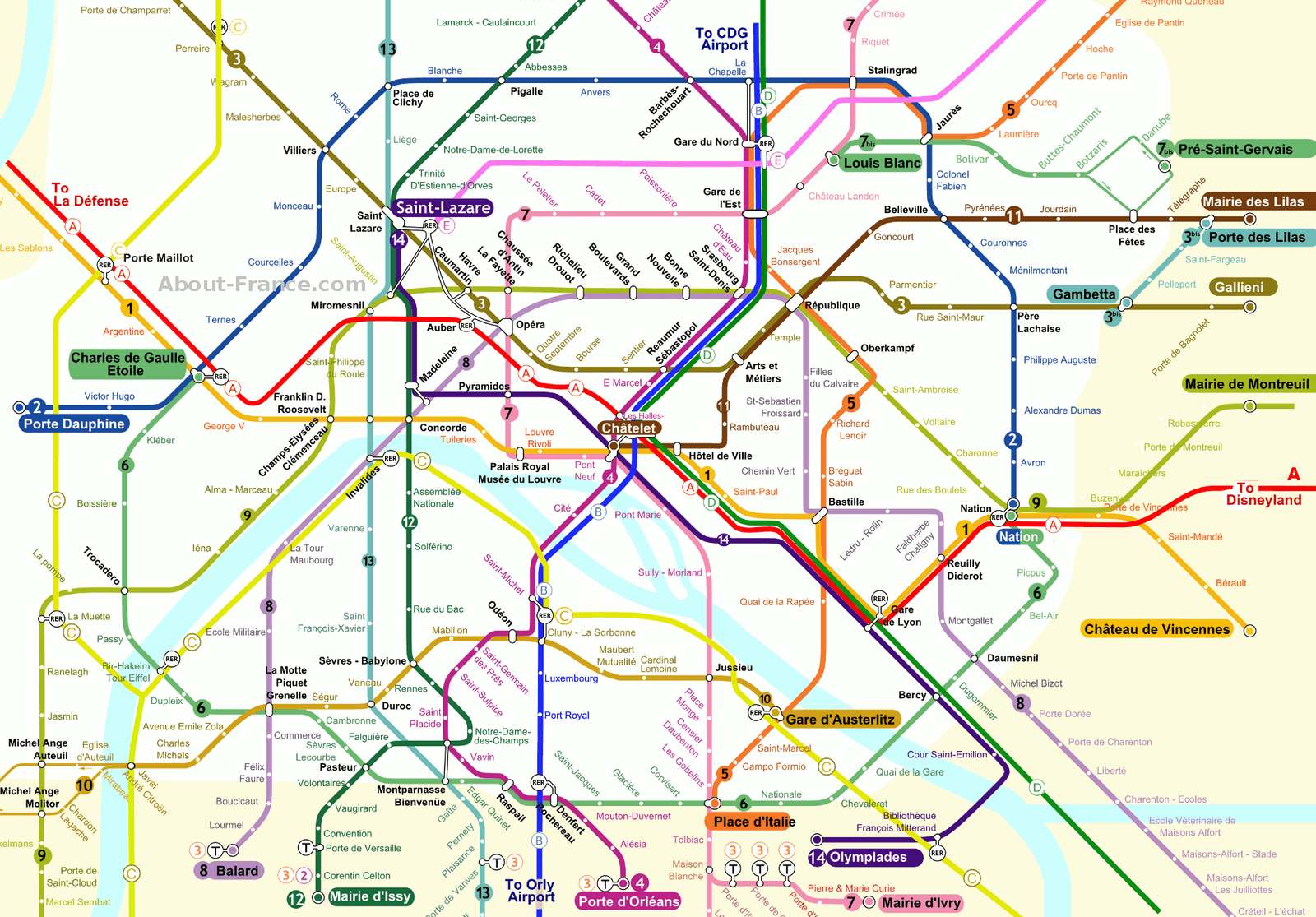 That's why I recommend day tickets. These are tickets which you can use between any zones that you pick. So for instance, for three days you can pay to go through zones 1-3 – and then you can go on any underground in between these zones as much as you like. This not only saves you money, it also saves the confusion of wondering whether your at the right stop. Because if you aren't, you just hop right back on.
Here's some more information on the Paris metro: https://www.introducingparis.com/metro
THE TRAINS & THE STATIONS
What I loved most about Paris and the underground was the trains themselves – especially the double decker ones! I'd never seen or been on one before I came to Paris, and just thought there were a brilliant idea and are curious as to why England doesn't have them!
The trains were also very clean and tidy places to be – and not depressing as the ones in London seem to be. That may be because the people were a little bit more friendly. The one thing I didn't like was the old system they seem to have. There's no app to pay on your phone, and you have very old and small paper tickets that I felt like I was going to lose every five minutes.
WALKING
The other, and my favourite way, of getting around Paris is by walking. Of course, it would take you hours to only use this mode of transport, but I wouldn't hesitate to say if something is 30-40 minutes away, to just walk it. When I was there, I saw so much more of Paris just by walking to places than I ever thought I would – and it's absolutely free! You bump into places and quirky art stalls, and are that extra bit of charm everyone talks about when they go to Paris. When you're on the underground, you miss all of that. So when you go to Paris, make time to walk, and stroll. And by the river is one of the most beautiful places I've ever seen.
There's lots of more ways to travel too. You can hire bikes and electronic scooters using an app on your phone. I never had the chance to get on one of these but they were extremely popular! There's also the conventional ways like the open top tour buses, normal buses, and a cab – although they can be very expensive.
So that's how I recommend you getting around Paris.
Remember the zones
Paris is split up into 20 arrondissements
Buy your tickets, and ask someone for help if you get stuck. There's always someone close by who can speak English willing to help.
Get a day ticket to save stress and money
Don't lose your ticket, they are very small!
Try and walk as much possible. That way you can properly see Paris!
And if you want to read more on Paris, here's my article on the food and drink I had while I was there!
Have you already been to Paris? Do you prefer a certain way to get around? Or maybe you're just really excited for your trip! Let me know in the comments.